After everything I had to do to make Emily the *right* eyepatch for her costume, she lost it. So I had to make her a new one.
I asked what she wanted on it, and she said "you can do skull and crossbones." I said "I'll do whatever you want on it" "Skull and crossbones will make you happy"
Okay. So I did skull and crossbones, but while the embroidery on the face is in black floss, I stitched down the skull and stitched the edges with hot pink which doesn't show in this picture. But I think it turned out well enough for all that.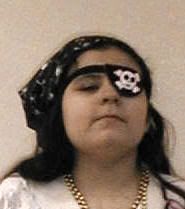 Ah.. I love craft felt.
Purse swap news. I got the first one in. Want to try for November 15th for the rest? Sorry about the delay folks, but personal life has been full of interesting things lately. Don't send postage, do send your address. Not fair to ask you to send postage when I'm including extras in everyone's package, things I've had on hand for them but haven't mailed yet.
I'll post my addy in the craft filter in my other journal.
-Shala