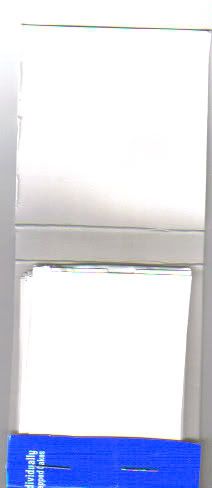 My tween thinks this is entirely neat. A sheet of paper folded into 16ths and cut apart stapled into a matchbook like cover made from the side of a Twinkie box.

The top part that tucks is a bit shorter then the other side to allow for the staples, and I folded a small spine on top. I was able to staple through all 16 sheets of paper and the two layers of card stock very easily. I crimped the staples just a little tighter with pliers.

Yeah, I know, you have a lot more of that type of box then you ever possibly need little memo notebooks, but remember you aren't limited to this small size. Cut the paper down to whatever size works best for you.

Best of all is using paper that's printed on one side, or maybe that's doodled on one side that you don't like the doodles, then the whole thing except the two staples is recycled.
I've also made mini notebook with a cover and pages stapled in from clothing tags (Emily the Strange tags make neat mini notebooks), I save all sorts of clothing tags, lots of them have neat art, and usually have a hole so add a tassel and maybe some beads or charms and instant bookmark, or the art can be used in collages or scrapbooks, or because of the scale of the art, tags also rock for ATCs.

Check out this post for more ideas or to contribute your own uses for lightweight cardboard boxes.

I also found myself wondering if you could use prong set rhinestones to hold together a little notebook of this sort. Wouldn't that be fun? Bedazzled mini notebooks?