From knitting and cross stitch. Instead I made a phone cozy. I'm still deciding how to trim it, I'm thinking a pretty lacy edging just on the top flap.
While watching Wonder Woman, because.. you know, Wonder Woman just rocks. I think I need a Wonder Woman tattoo.
A man from the future just told Wonder Woman that there would be a nuclear holocaust in 2007. EEEK! The computers? Totally wonderful on this thing. E keeps asking me questions about them. She's completely baffled by the knobs and lights. She also keeps laughing.

Okay, I tend to lose my phone in my mini messenger bag all the time. (Supergirl. Yep. I carry a Supergirl purse and wear a Wonder Woman bracelet. Don't judge me. I'm not all DC, I've got a Punisher car in that Supergirl purse)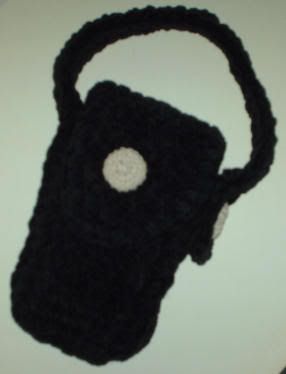 This.. going to be a tutorial rather then a pattern. Because everyone has different sized phones, and different sorts of yarn to work with. I made mine with a size G hook and Lion Brand's Suede yarn, the buttons are covered in size 10 ecru thread using a size 7 hook.

You will need to make 3 pieces, a short piece, just a tiny bit shorter then your phone so you can pull it out easily, a long piece that's tapered at one end with a button hole, and a long thin piece that will wrap around the phone and form the "handle" with a button hole at one end.


You'll also need two shank buttons or to cover two flat buttons with crochet and create shank buttons with those.
For my example, the first two pieces were 8 stitches wide, and done in single crochet, the button hole was done by sc in the first 3 stitches on that row (just before starting the taper), ch 2, skip 2 stitches, sc in next 3 stitches, then I started the taper on the next row, which was dec over 2 stitches, sc in next st, sc in each ch, sc in next st, dec over last 2 sts (6 stitches)
Next row- sc in each stitch
Next row- dec over next 2 stitches, sc in next 2 sts, dec over last 2 stitchs (4 sts)

Like I said though, your mileage probably will vary depending on yarn.

The long strip, I chained 3, sc in second stitch from hook, sc in next st, ch 1 to turn, sc in each stitch, back and forth until it was as long as I wanted it, then ch 3 (counts as first st and a triple), triple crochet in next st, ch 1 to turn, sc in each st, break off. The triples create the button hole.

Pin the pieces together, then starting at the top corner on the short piece, join it to the bottom of the strap (the part without the button hole) and single crochet around 3 sides of the short piece to join the strap/sides/bottom strip to the short piece, continue working around the strap down to the other side, when you reach where the short piece was joined, attach the long tapered piece. Count the same number of rows up on that piece that short piece is. Work around 3 sides attaching the strap piece (jeez.. this all sounds so much more complicated then it is!!) then continue working around the flap, sl st to join to first stitch, break off and weave in ends.

Sew one button at the top of the long thin piece where it's joined to the other two pieces, and sew the other button to the short piece.

Then help me decide, a shell edging all the way around or just a bit of crocheted lace right around the flap? I really love how velvety this looks, and I think the ecru thread on it gives it a very old-fashioned look.
Why suede yarn instead of chenille for a velvety look? Because the suede yarn seems a bit more sturdy. It didn't break or shed horribly while I was working with it, but your yarn choices et cetra are infinate since this isn't really a pattern.

EDIT: I decided on a lacy edging for the flap.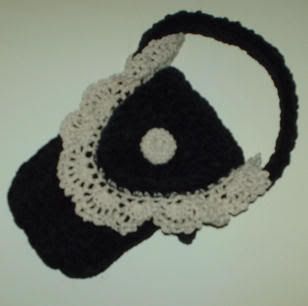 The edging was done with a size 7 hook and size 10 thread (the same thread I used on the buttons).
Row 1:I put 3 scs in the back loop of each stitch around the flap
Row 2:ch 1 to turn, and sc in that stitch, then ch 3, skip 1, sc in next st all the way around until the last stitch, ch 1, dc in the last sc of the previous row.
Now, this next row, since I wasn't exact about counts, you might have to fudge around with a bit.
Row 3: ch 1 to turn, sc in dc, ch 3, sc in next loop *5 dc in next loop, sc in next loop, ch 3, sc in next loop* repeat around until the last one which is hopefully a chain 3 loop. Like I said, I didn't count! Bad me. Ch 1, dc into last loop.
Row 4: ch 1 to turn, sc in same stitch, chain 1, dc in first dc, ch 1, dc in next st, ch 1, dc in next st, ch 1, dc in next st, ch 1, dc in next st, ch 1, sc in next loop, work that way all the way around, sc in last loop for the last st.
Row 5: ch 1 to turn, sc in same stitch, ch 3, sc in ch 1 space, repeat around, break off thread and weave in the ends.