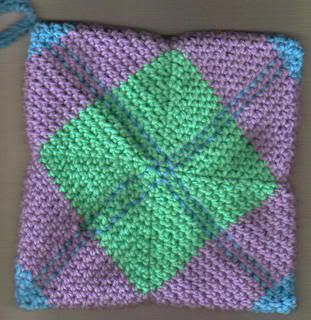 So easy I'm embarrassed to write instructions, since the photos are pretty self explanatory.
It's a big square. Not a huge one, but big enough that folded it's big enough for a potholder.
I used cotton ww yarn. Because.. well.. I almost always use it, but also because it's the best for potholders. See, I never saw the point of gorgeous frothy creations made of acrylic yarn you could never actually use because the yarn would melt. You need natural fibers for a potholder, and cotton is cheap.
I used a size G hook, I've also used a size H in the past and it worked fine.
Magic ring start, 8 sc in ring, pull ring closed, sl st to join.
Ch 1, sc in same st, 3 sc in next st, sc in next st, 3 sc in next st, sc in next st, 3 sc in next st, sc in next st, 3 sc in next st, sl st to join.

Keep working in rounds, working plain until you hit the center of the 3 sc corners in the previous rounds, and do 3 sc in that st. Yep. Like I said, it's just a square.

At the end of mine, I had 37 sc on a side plus the 3 sc corners.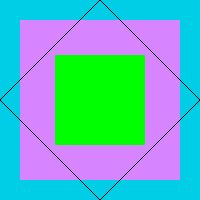 Fold the corners into the center on the lines marked in black, and pin them, then join the edges in the middle with single crochet, add a loop at one corner if you want one. You'll have to do it in 2 passes, one corner to the other, break off, weave in ends, then the other set of corners.
Thread a yarn needle with whichever color you want, and stitch down on both sides of the sc row through both layers. I used a running stitch, then went back down the stitch to fill it in a make it a solid line of stitching.
See? Easy peasy, and functional. Truth is, we never buy potholders. Mike has big hands, and most potholders are too small for him, plus you know how sometimes if your hands are even the tiniest bit moist, you'll burn yourself through regular potholders? Doesn't happen with these.
I do make pretty planned potholders for friends, but I use leftover yarn for ours like I've said before. Some of my friends have potholders they've been using for nearly a decade now that I made them. Just throw them in the wash when they get dirty. The thing I really like about this pattern is that it's hard to have it come out looking bad even if you are just scrapping it, of course, I don't have any matched ones.
I'm trying the same method now using double crochets and a size E hook (so it's fairly tight), I'll let you know how it works. This one is using the bit of blue I had left from the last one, some white, and I'm not sure what else yet. I need to go through my yarn basket.

Mike's birthday was lovely. E made a no bake cheesecake for him using pre-made graham cracker shells, cream cheese, my good Mexican vanilla (which I'm nearly out of.. *sob*), powdered sugar and coolwhip. It's marvelous. Smooth and just sweet enough. She likes to "slick the pot" and this time she slicked it using chocolate graham crackers.